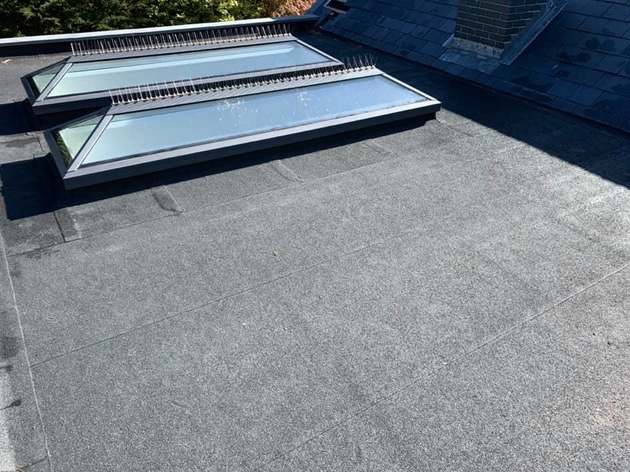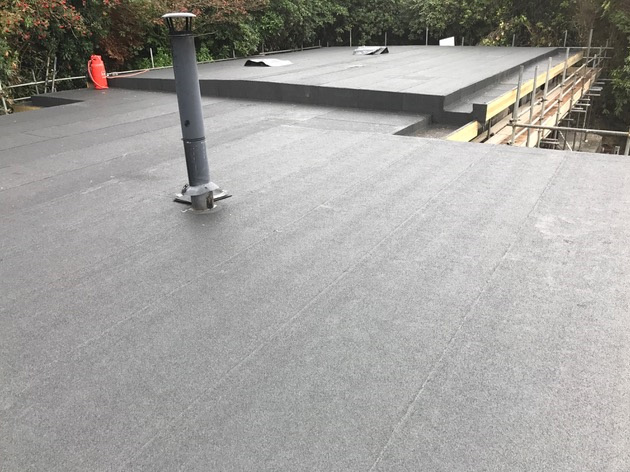 Flat Roofing
Flat roofs have a reputation for needing frequent maintenance, but modern flat roofs can actually last more than 20 years, depending on the specification. Complete Roofing Solutions are experts in fitting and maintaining a range of different kinds of flat roofs, to the highest standards of craftsmanship. We can advise you on the best system and maintenance programme for your flat roof, meaning it will have a long, effective life.
We even offer insurance-backed guarantees of 12, 15 and 20 years, covering both labour and materials, to give you peace of mind that you've got a top-quality flat roof. No job is too small. We are happy to undertake all flat roofing work, from storm-damaged roofs to new builds.
Felt-bonded flat roofs
Built-up bonded felt roofs are the traditional flat roof system, common to many flat roofs in the UK. Typically consisting of two or three layers of materials, a felt-bonded flat roof can provide a very dense and impermeable barrier against the elements.
At Complete Roofing Solutions we can install felt-bonded flat roofs to all kinds of buildings, making use of the latest materials and the highest standards of craftsmanship, to ensure an effective roof that will last for many years to come.
Sheeted flat roofs
Sheeted flat roofing can be a cost-effective and speedy roofing solution for large roofs, including those found on industrial, agricultural and commercial buildings. Sheet roofing can also work well on residential buildings, and is particularly suited to garages.
Complete Roofing Solutions are experts in sheeted flat roofs. We can advise you on the most suitable sheet materials for your flat roofs, and install your new roofing quickly and efficiently. We can also assist in the identification and replacement of asbestos sheets.
GRP fibreglass roofs
GRP fibreglass roofs are an increasingly popular kind of flat-roofing, partly because they can last for at least 30 years before any noticeable deterioration occurs. They are used widely in residential properties with a range of applications, including over flat roofs, on balconies, above bay windows, and anywhere else a flat, watertight surface is needed. It's vital to ensure GRP fibreglass roofs are installed carefully and in optimal conditions, in order to ensure a long life.
At Complete Roofing Solutions, we are highly experienced at laying GRP, and will always ensure we install your roof at the right time and in the right conditions.
Single-ply membrane roofs
Single-ply roofs are a complete roof system, created from strong and flexible membranes. Some single-ply plastic flat roofs work alone, while others can be reinforced with glass fibre or polyester, depending on the intended application.
When combined with insulation, they can form complete and very long-lasting roof systems for all kinds of buildings, including industrial, commercial and residential properties. We are very experienced at working with single-ply roofing systems, and can advise on and install all types.
Flat roof insulation
There are a range of flat roof insulation products available on today's market, suitable for all kinds of application, including built up flat roofing, single-ply membrane, balconies and terraces, and much more. Complete Roofing Solutions can supply and install the highest quality and most appropriate insulation products for your flat roof, ensuring long-term energy efficiency for your building.

Call:
01273 455 070
|
07958 595 290
info@completeroofingsolutions.com
1st Floor, The Roller Mill, Mill Lane, Uckfield, East Sussex, TN22 5AA
© Copyright 2014-2018 Complete Roofing Solutions | GDPR Privacy Policy