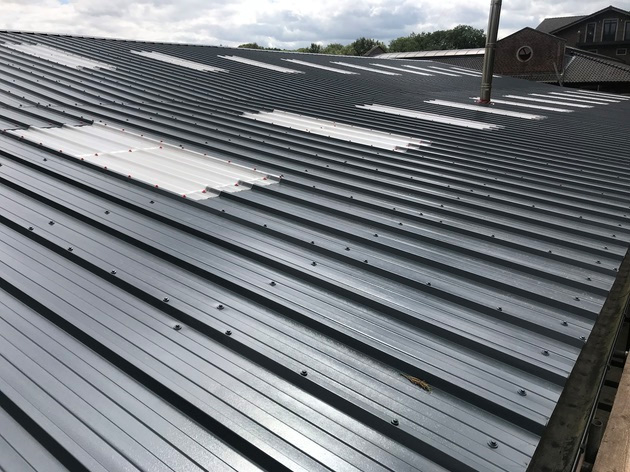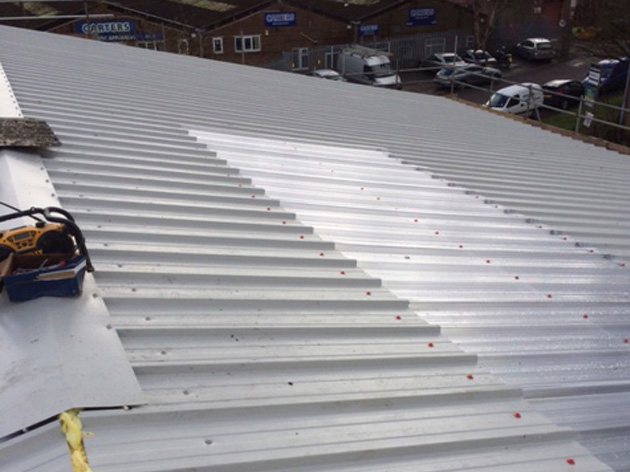 Industrial Sheeting & Cladding
At Complete Roofing Solutions, we specialise in industrial and commercial roof cladding, both on new-build projects, as well as the re-sheeting and re-cladding of existing roofs. We work with a range of industrial roofing systems, including composite panels, cement fibre sheets and built-up systems.
Our service is end-to-end, meaning we offer everything from the early design through to supply and installation of a range of industrial roofing systems.
We will ensure the finished results provide the roofing system you require, completed within your timescale and budget.
Composite Panels
Insulated composite roof panels are the ideal choice when speed of installation is your highest priority for your industrial roof. Composite panels can be installed very quickly, meaning disruption and delays are minimised. They also deliver air tightness and consistent insulation throughout the whole roof, maximising energy efficiency and performance.
Complete Roofing Solutions are experts in the supply and installation of composite panels, so give us a call today to find out more about what we can do for you.
Cement Fibre Sheets
Cement fibre sheets are a popular roofing choice for agricultural buildings, thanks to their resistance to corrosion and low maintenance needs. At Complete Roofing Solutions, we can supply and install a range of options. Cement fibre sheeting does not rust or rot, and is resistant to chemicals.
It also offers aesthetic benefits, as many types have been specifically design to reduce the visual impact of buildings on the landscape. In addition to this, high levels of noise and thermal insulation help encourage the wellbeing of livestock in buildings with cement fibre sheet roofs.
Built-up Roofing Systems
Industrial roofing needs to fulfil a range of functions, covering keeping out water, coping with extremes of climate, surviving a building's structural movements and meeting environmental standards. By covering all these functions, built-up roofing systems have become a very popular option.
At Complete Roofing Solutions we specialise in built-up roofing systems, including trapezoidal and low-pitch systems, with both standing seam and secret fix profiles. Some built-up roofing systems with a low pitch can also lend themselves well to 'green' roofing, where grass and other plants can be grown, so be sure to ask us about these options.
Re-Roofing
If your budget is tight or you simply want to improve the appearance of your existing roof, why not consider over-cladding? Over-cladding an existing roof is a cost-efficient way to re-roof your building, which not only waterproofs your roof but will also improve its appearance. If it turns out your original roof is worn out beyond repair, our re-sheeting service will strip back the old sheeting and replace it with new and up-to-date sheeting. At Complete Roofing Solutions, we will happily inspect your existing roof and advise you on the best options for maintaining or replacing it.

Call:
01273 455 070
|
07958 595 290
info@completeroofingsolutions.com
1st Floor, The Roller Mill, Mill Lane, Uckfield, East Sussex, TN22 5AA
© Copyright 2014-2018 Complete Roofing Solutions | GDPR Privacy Policy